Posts: 168
Joined: Sun Oct 05, 2008 7:48 am
Sat Jan 24, 2009 7:04 am
So I bought 'The Blue Book of the Screen' at Sam Wellers Booksellers here in Salt Lake City.
Fantastic book store with a rare book room bigger than some of the tome stores I've visited in my forty two years.
Haggled on the price, settled, stuffed it in my backpack and off to my house I go.
Then I find this on the inside cover;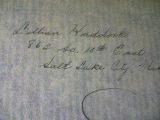 It reads;
Lillian Haddock
862 So. 10th East
Salt Lake city, Utah
7/26/24
So I Google Map the address and here is the house;
Pretty non descript.
Then I find this silk bookmark between pages 231 and 232;
My curiousity piqued I googled (what in the hell did we do before computers?) F.O.E. 67. It took me a bit but I found out that F.O.E. stands for
The Fraternal Order Of Eagles
and the
67
is the chapter number here in Salt Lake.
I felt like Coke Ennyday searching through all the web detrius.
Found out that F.O.E. is also a movie and a video game. Go figure.
So I called them, the Eagle people. Sounded like a party going on. Lady sweet voice said to call back on tuesday and ask for a bloke named Terry.
I am going to do that.
Last edited by
silent-partner
on Sat Mar 28, 2009 12:39 pm, edited 1 time in total.