READY FOR A FACELIFT: $20M PLAN TO RESTORE THE CAPITOL THEATRE (MELBOURNE, AUSTRALIA)
In her 93 years, the Capitol Theatre has suffered more ups and downs than a Saturday matinee film heroine.
At various times, it's been loved, shunned, stripped, downsized and neglected.
In 2014, owner RMIT University closed the cinema, which it had been using for lectures, due to its poor condition.
Now the university is seeking to raise $20 million to restore the once magnificent Chicago Gothic-style "palace" in Swanston Street, to its former glory.
Already $8 million has been pledged, including $2.5 million from the State Government and $500,000 from a single donor – a 27-year-old RMIT graduate and now filmmaker, Ling Ang.
Ms Ang said the Capitol was "one of most impressive buildings I've ever seen" and she wants to help ensure it survives.
A fan of science and fantasy growing up, she said, "once you walk into a building like that, it's feels like it takes you into a whole other world. I think helps people dream. This was built 100 or so years ago still it's ahead of its time, and I think it's important we have buildings like this."
On Tuesday, Academy Award winning animator Adam Elliot (Harvie Krumpet) and producer Sue Maslin (The Dressmaker) will launch a public appeal, seeking a further $2 million.
That would take the tally to $10 million. RMIT has pledged to match (i.e. double) that figure, which would enable work to begin to turn the Capitol into a modern cinema, education, festival and function venue.
Today the Capitol is far from its early days, when 2000 people would cram into the single two-level cinema to watch silent classics such as Cecil B De Mille's Ten Commandments, accompanied by an orchestra and Wurlitzer organ, and sometimes preceded by live vaudeville.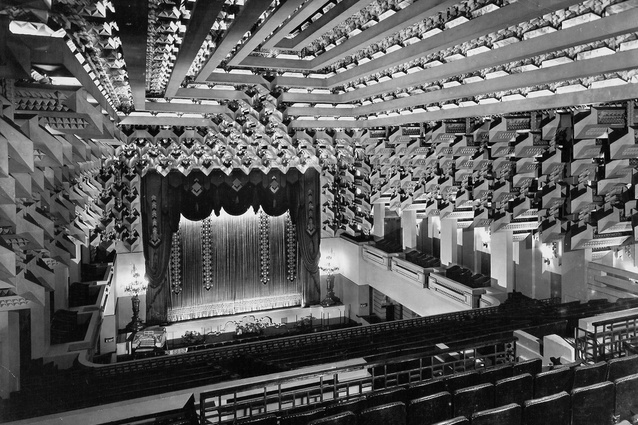 It had posh ladies' lounges, a men's smoking lounge and lush carpets, curtains and lights in geometric black, orange and green.
The arrival of television decimated audiences and the Capitol closed in 1963.
It narrowly escaped demolition after architect Robin Boyd, who called it "the best cinema that was ever built" led a Save the Capitol campaign.
The Capitol re-opened in 1965, but the entire lower level, including 1400 seats and a sweeping foyer, was replaced by a shopping arcade.
After being owned by several cinema chains, the Capitol was intermittently used in the 1990s before being bought by RMIT in 1999.
Venue manager Marc Morel said it retains many stunning period features such as its famous geometric plaster ceiling with 4000 coloured lights, side theatre boxes and the original projection room.
But it is in a sorry state, with just one female and one male toilet, poor furnishings, shabby back stage areas and no disabled facilities.
The $20 million would make the building safe and functional with a cafe, working air conditioning and fire alarm systems, state of the art sound and vision and new wiring.
It will be used for student classes and seminars. And during comedy or film festivals, students could produce events and screen their work here.
Donations can be made at
http://www.rmit.edu.au/capitol
" target="_blank" target="_blank" target="_blank.