NEW DVD RELEASE
Happy new year everyone!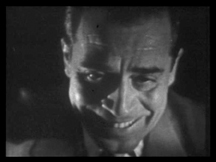 THE HAUNTED CASTLE (1921)
and LIGHTS OUT: THE INVISIBLE STAIRCASE (1950)

THE HAUNTED CASTLE
starring Arnold Korff, Lulu Kyser-Korff, Lothar Mehnert, Paul Bildt, Olga Tschechowa, Paul Hartman and Julius Falkenstein. Written by Carl Meyer. Directed by F.W. Murnau. A hunting party gathers at the castle of Lord von Vogelschrey for what they think will be a few days rest and recreation. This all changes with the arrival of an uninvited guest, Count Johann Oetsch, who has been recently accused of killing his brother! Soon mystery, intrigue and unexplained disappearances take over as the secret of a murder is unraveled.
Full of atmosphere and a sense of claustrophobic dread, this film can be seen as a warm-up to Murnau's great vampire masterpiece of the following year, "Nosferatu"!
Original music score composed and performed by John Mucci!
LIGHTS OUT: THE HIDDEN STAIRCASE
starring Clarence Derwent, Elfrida Derwent, Sarah Burton, John Griggs, Klock Ryder and Jack LaRue. Diected by Kingman T. More. Our sinister host introduces the story of a team of famous historians who visit the creepy old home of the Bosworth family to research the letters that passed between American Civil War era general William Tecumseh Sherman and a Bosworth ancestor. During the night, they discover that a simple closet is not what it seems and a passage is found that leads to a mysterious trunk, a bloody dress and murder!
Originally aired on February 13, 1950, this is an episode from the series "Lights Out", the TV version of the famous radio broadcasts of the same name. This DVD is digitally transferred from what is likely the only surviving Kinescope, once owned by John Griggs, who appears as Eliot in our story.